Digital Business Platform
Problem: Companies faced with the challenge of having to react quickly to changes, without being able to upgrade their current IT infrastructure.
Solution: The digital business platform is the perfect answer as it enables companies to consider the digital transformation of the entire company while approaching change gradually. This is possible because the digital business platform is model-driven, ultra-scalable and designed for productivity. Goals are achieved faster, as the digital business platform is easy enough to use for even highly complex tasks. The platform also integrates information and data from third party systems directly into processes. The integrated data is fully available inside the digital business platform and can be used for intelligent decision-making. Single or multiple or even the whole process architecture, can be analysed.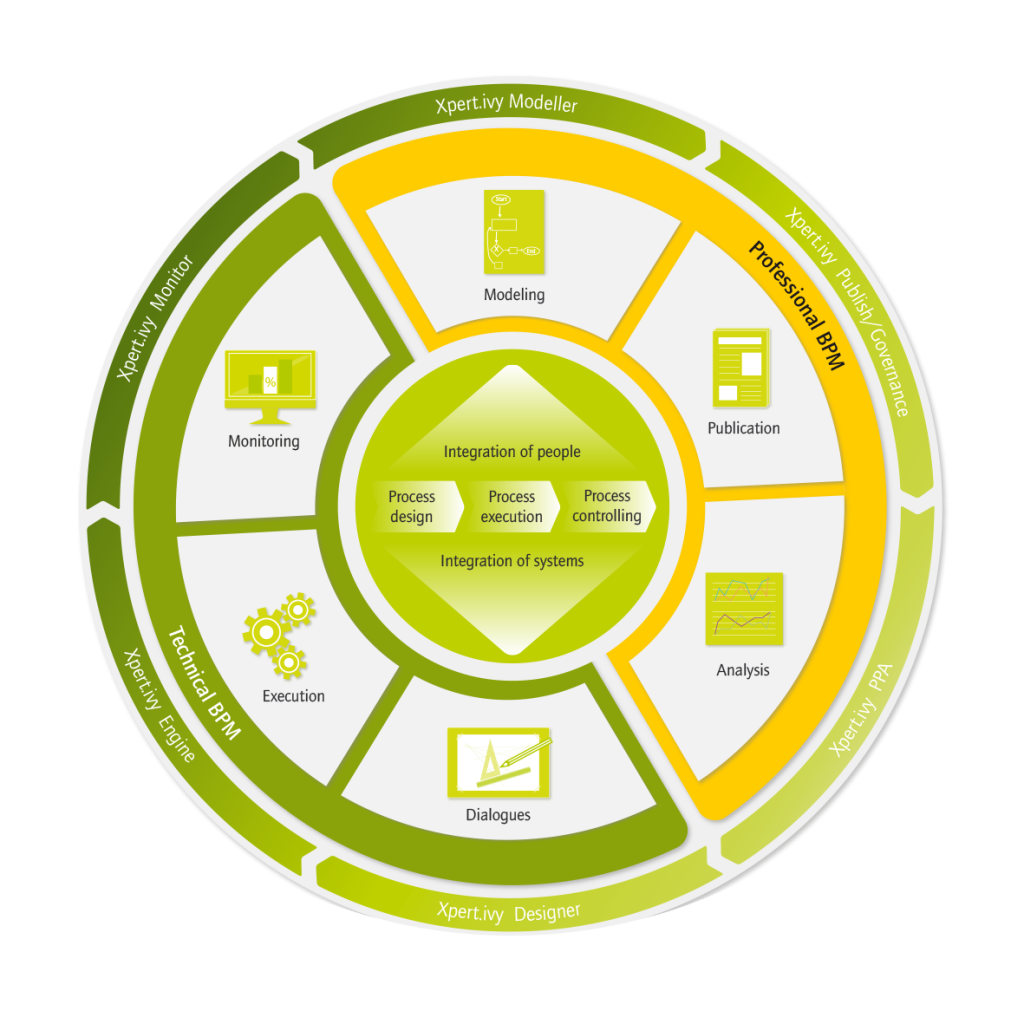 Axon.ivy Designer
The Axon.ivy Designer is a state-of-the-art process modelling tool that enables you to turn your business processes into real and fully functional web applications. You can easily integrate your existing systems using standard connectors such as web services, SQL and many more.
Axon.ivy Engine
With the Axon.ivy Engine you can run your business processes on a single or clustered environment.
VISUALIZE YOUR BUSINESS PROCESSES
The Axon.ivy Digital Business Platform allows you to document business processes quickly and intuitively. A shared view on all the users, roles, departments and technical systems that are involved in a business process simplifies the task.
AUTOMATE YOUR BUSINESS PROCESSES
Documenting your processes is good. But what you really want is to automate your high-value processes. Build applications that lead users through processes without the need to hire a software engineer.
INTEGRATE WITH OTHER SYSTEMS
The Axon.ivy Digital Business Platform integrates well with countless 3rd party systems (e.g. REST, Web Services, Databases, SAP, Email, Reporting).
SOLVE COMPLEX PROBLEMS
With our Java integration you have the ability to break out of our predefined tooling and use the advanced features of Tomcat, JPA, JSF, JAX-RS and more.
MONITOR YOUR ENGINES
We provide insightful and effective monitoring and logging interfaces that give you confidence that the application is healthy and accessible.
(Extracts from Axon Ivy's corporate and technical website)
Explore Axon Ivy features: